Our professionals offer a full range of commercial landscaping and construction services to meet your property's needs. Whether you are in need of new seasonal foliage or require a team to provide landscaping upkeep, our comprehensive landscape management services will ensure that your property looks as well thought-out and maintained as possible.
That Vital First Impression
The first thing that customers notice upon arrival to a commercial or business property is the landscaping. Maintaining a neat and professional exterior not only assists in increasing the value of your business: it also leaves a good impression on visitors, customers, and tenants.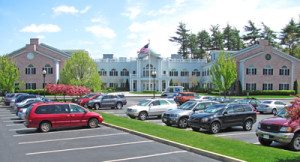 We understand that a well-maintained landscape is crucial to the success of your business. We also understand that clear, open communication is the keystone to success in a business relationship. While working with Greener Horizon, you can expect that we will keep our lines of communication open, and always welcoming your feedback, comments, or concerns.
Property maintenance with Greener Horizon includes a variety of services that help to enhance the appearance and functionality of your commercial space. Our goal is to help you send a positive, welcoming impression to your customers and clients.
Our Landscape Management Services
Weekly Landscape Management and Detail Visits
Premium Bark Mulch Installations
Tree & Shrub Horticultural Services
Turf Grass Management
Seasonal Annual & Perennial Installations
Weed Control Solutions
Custom Seasonal Displays
Irrigation Installation and Maintenance
Our team is exceedingly knowledgeable about landscape management, and many of our employees are trained to meet the standards of the American Society of Landscape Architects. This means that we can provide our clients with superior service, and are knowledgeable as well as efficient.
Our Commercial and Industrial Clients
We provide services to commercial and industrial clients both big and small, helping out individual small, medium, and large businesses, including franchises and entire chains in the Eastern Massachusetts and Rhode Island areas. A few of our client include:
Steiff North America
AESCO Electronics
Holiday Inn Hotels and Suites
Butler Automatic
Alpha Broder, Inc.
CET Group USA, Inc.
Sysco Corporation
Regular property maintenance is an important element that all successful businesses should consider. We are committed to providing you with all of the landscape management and design tools necessary to see your property thrive. From weed control and turf management to mulch and plant installations, we look forward to developing a successful business relationship with you.
If you are interested in learning more about commercial property landscaping with Greener Horizon, call us at 508-947-0225, or click the button below to request a complimentary consultation.