Greener Horizon understands the importance of a beautiful and functional living space for your tenants and apartment or condo owners. We work with apartment communities, condominium complexes, and home owner's associations to craft and maintain stunning landscapes across eastern Massachusetts and Rhode Island. Our team's mission is to provide premium landscaping services to all of our clients.
Attracting and Retaining Tenants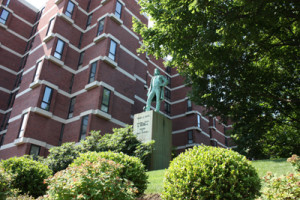 Curb appeal is vital for attracting desirable tenants, and well-maintained landscapes create an inviting living environment for both existing and potential tenants. A well-run landscape maintenance program is an essential part of any plan to increase occupancy rates. Greener Horizon understands this and provides exactly that. Our services are detailed and exhaustive, giving a property manager the ability to entrust all of their landscape management needs to us.
Our Services for These Communities
Weekly Landscape Management Visits
Premium Bark Mulch Installations
Tree & Shrub Horticultural Services
Turf Grass Management
Seasonal Annual & Perennial Installations
Weed Control Solutions
Custom Seasonal Displays
Irrigation Installation and Maintenance
When creating and maintaining your landscape, we always take into account current landscaping trends that can help increase the appeal of your property. According to the American Society of Landscape Architects, one of the most popular landscape elements that condo and apartment owners look for are comfortable outdoor living and entertainment spaces. Simple examples of these types of living spaces might include turf lawns, gardens, and installed seating (such as benches, wall seats, ledges or steps), while more complex examples such as lighting, fire pits, patio and grill areas are also popular. Our team will collaborate with you to be certain that your landscape can reach its full potential. We will care for your property year-round, or help you to design something new. To learn more about our design services, visit our commercial design page.
Strong communication that we maintain with board and property managers is one of the main ways we keep your living spaces beautiful and functional. We keep our lines of communication open throughout the course of our relationship, being available to attend HOA board meetings, being mindful of your budget, and regular site visits. The strong communication that we maintain with board and property managers is what has kept us going since 2004.
Our Condominium Clients
We attend several trade shows throughout the year, such as the New England Condominium Show and New England Affordable Housing Management Association to stay in touch with current clients and meet new ones. A few of our satisfied condominium clients include:
Chapman's Reach Condominiums
Dale Village Condominiums
Turtle Crossing Condominiums
South Purchase Estates Condominiums
James Landing Condominiums
Interested in learning more about landscape management with Greener Horizon for your apartment community, condominium community, or HOA?
Contact our professional team! Call us at 508-947-0225, or click the button below to request a complimentary consultation.