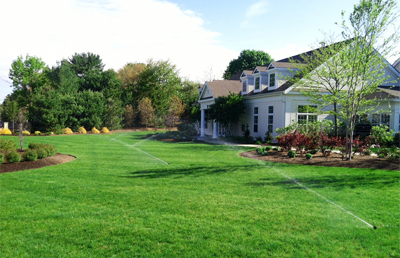 The overall health of a landscape's plants and turf are determined by how much and how frequently it receives regular watering. Water is crucial to all life, and in order for your property to be at its best, an automated irrigation system is an important feature.
Irrigation Design, Installation and Service
We have been installing and servicing irrigation systems in Massachusetts and Rhode Island since 2005. The systems we install can be fed from on-site wells or municipally fed water supplies. Our team of technicians can also diagnose problems you may be having with your existing system. Once diagnosed, we can make recommendations and suggestions on how to best make repairs.
Irrigation Inspections & Fertilization Programs
Since an irrigation system is 90% underground, regular inspections should be conducted to ensure proper function and to catch any issues- before they turn into bigger problems. Fertilization programs become much more effective when regular watering occurs, which in turn promotes stronger, healthier lawns and plants that will be more insect and disease resistant.
Our Landscape Irrigation Services
System Design and Layout
Installation
Service Repairs and Maintenance
Water Saving Smart Systems
Drip Systems
Soil Moisture Sensors and Rain Sensors
Rely on Greener Horizon for all your irrigation needs. From water saving Hunter MP Rotator sprinkler heads to complex drip systems, our technicians have the experience to ensure that the correct amount of water is being delivered to your lawn and landscape.
For more information about our landscaping design and build services, call us at 508-947-0225, or click the button below to request a complimentary consultation.