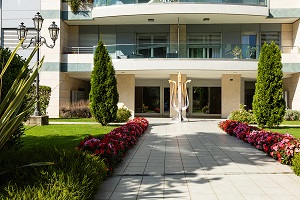 People are looking for homeowners associations and apartments to live in with their families or to live in on their own. When these renters or owners are looking for a place to live, they are always attracted to somewhere that offers many amenities. There are so many different ones you can choose from, especially when you think about your landscape.


Creating Outdoor Living Space
When the warmer weather rolls around, New Englanders want to spend as much time outside as they can. Adding outdoor living spaces to your apartment or condo association will make it more attractive for buyers. There are so many common areas you can add that will create a community to retain your tenants. Here are some that you can choose from:
Outdoor kitchen with everything in it like sinks, stoves, and more.
Fireplaces or firepits for people to sit around and enjoy warm summer nights with their friends and families.
Patios can beinstalled just about anywhere like in a pool area to create a space to hang out in.
Walkways: creates exercise and walking routes, prevent grass damage.
Retaining Walls
You won't always be present at a rental property to assess damage from rain or other natural elements, so adding features such as a retaining wall will help protect your investment. It will save you money in the future by protecting your grass and landscape from water runoff and prevents your landscape from sliding due to flooding. This feature will allow you to add in hardscape by using stones like creating a walkway to line the retaining wall. There are a variety of materials you can use when choosing a design.
Incorporating Softscape
Retaining walls are the perfect way to break up your landscape and add softscape. It's important to have a good balance between the two. You can create flower beds with a retaining wall especially where your landscape has a slope. In these beds or gardens, you can plant flowers, shrubs, trees, or anything that will add life to your yard.
Curb Appeal
When you choose to add different features to your landscape, it will improve the look of your property and may be a major selling point. You will be able to attract more tenants by adding features such as ponds and waterfalls. If you add a pond you can choose to make it a koi pond and add fish. Regardless of whether or not you choose to add fish, you need to be sure you are regularly cleaning the pond and free from algae.
Swimming Pools
Another water feature you can choose to add to the property is a swimming pool. The best part of having a swimming pool is being able to customize the area with hardscape, patios, outdoor kitchens, and more. This added amenity will attract renters, and they are willing to pay more due to the onsite swimming pool.
Next Steps
Before you choose to add these features and hardscape in, it is important to choose a company that will continue to be there after the installation. At Greener Horizon, we will help with the ongoing maintenance. If you choose to add different features onto the property, this process doesn't have to be a one time thing and you need a reliable company on your side.
If you are looking into adding hardscape into your rental property such as an apartment or condo association, start coming up with design ideas now. Call the professional landscapers at Greener Horizon that can help create the landscape of your dreams. We will be there throughout the entire process, from the beginning designs all the way to the finishing touches.