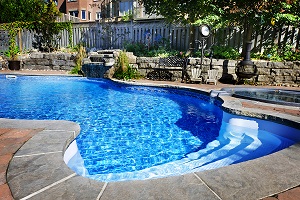 A swimming pool isn't a status symbol: it's something homeowners use. It's an extension of their living space from inside the home into their backyard: a place they use in activities. Especially during the peak temperatures of summer, a swimming pool is somewhere where family members and friends of all ages congregate to have fun. For some this will be swimming, but for others this will also be lounging, cooking, eating, or just getting their feet wet. By expanding this area around the pool, you can increase the enjoyment and use of your backyard and pool for yourself and the people with you. Today we look at swimming pool patio installations.
Why Would You Add on a Pool Patio?
For any homeowner who has had it done, installing a backyard below-ground pool is a big project. From excavation to liner installation to the actual pouring of concrete and the settling process, the pool itself is a huge deal. For many, the actual above-ground surroundings for the pool are more of an afterthought. What a pool patio does is helps extend the area surrounding a pool, so you have a larger living space footprint around the pool.
A Pool Patio Helps You Share the Experience with Friends and Family
As mentioned above, by installing or expanding patio area around your pool (either during or after installation), you expand your options for yourself and others poolside. This allows everything from more patio furniture around the pool for friends and family, to installing complimentary features such as a grill, hot tub, or water feature. With more space in the backyard that's easy to use, it means you can open up your backyard for more use, especially in large parties that might leave a lawn trampled and damaged.
Styles of Pool Patio Installations
While there are near infinite types and color of materials to use, many of those will be dependent on your personal preferences, budget, your backyard size, and current décor. However, depending on the current patio and your pool, there are two major ways to style a patio.
Patio Installation with Pool Installation
The best time to install a pool patio is alongside a pool installation. This gives you the most options with the least amount of time and cost: no old pool features to either remove or work around. This is a great time to remodel any existing patio work to overhaul your backyard living room.
Integrating and Extending Existing Patios & Pools
If you have an existing pool and patio, you have the option to integrate both together, transforming the section between them into more usable hardscape. A lot of design work should be done to bridge the game between the two, both regarding integrating styles and materials and also flow between on to the other.
At Greener Horizon, we're experts in both landscaping and hardscaping, with the goal of making your property not only more beautiful but also more livable. If you're interested in getting a pool patio or other hardscaping done at your home or work, please contact us.