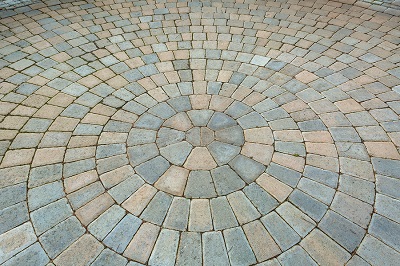 New England weather can be very unpredictable, and the season only lasts a few months. We love to cram in all the fun outdoor activities into 3 months and with a fully landscaped and hardscaped backyard, that won't be hard to accomplish. You can utilize the space to roast marshmallows over the firepit, set up an outdoor television for movie nights, and have social gatherings in your backyard to enjoy the pool or another water feature you might have. If you are having trouble deciding whether or not adding hardscape is a good idea, here are some reasons you should consider having it.
Hardscaping Can Offer Higher Return on Investment
Most people in the market for a new home aren't looking for a fixer-upper, instead, they are looking for a home that has everything they need. If you choose to create your own hardscape masterpiece it will not only benefit you now but also in the future. While you are enjoying your new living space you can also enjoy knowing that when you sell your house one day, that area will be a huge selling point.
Create Your Own Relaxing Escape
Installing hardscape in your backyard can create an outdoor retreat where you can relax after a long day. Hardscaping is also another opportunity for you to have your personality shine through with the many different designs and materials to choose from. You can do just about anything with this space:
Accessibility and Safety
The best part of having hardscape is being able to use it throughout the whole year. You will easily be able to shovel off snow, allowing you to get to different places in your backyard such as your shed. You will also make it more accessible in the warmer seasons, so people have a designated place to walk and they won't be walking all over your grass which will, in the end, protect your lawn. Other features you can consider adding in are,
Retaining walls can be a great addition to make your landscape pop. Often times people who have a slop to their landscape will add retaining walls. They can be used as flower beds, additional seating, etc.
Fences are often used as a privacy barrier, but they can also be added in to add dimension and life to your backyard depending on if you choose a living fence or not.
Lighting being added along walls, fences, and walkways will increase your homes curb appeal. You should also consider adding spot lights or flood lights for security which will help increase your properties value.
Choosing to put the money up front by installing a new walkway, patio, or other features will reduce the amount of grass you need to maintain. This will mean less work you need to do outside and more time you will be able to spend enjoying your backyard again.
Are you ready to add hardscape to your backyard? At Greener Horizon we have been in the business of making peoples dream landscape come to life for over 10 years. Whether your project is big or small, our promise is to maintain positive customer experiences with responsive service, constant communication, and commitment to follow-through. Contact us today for a free consultation.