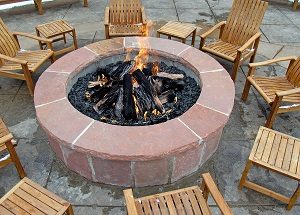 The burning question when planning out your landscape is deciding between an outdoor fireplace or firepit. Both are great features to add to your landscape, but which one is best for you? The best way to decide is how you plan on using the feature, it is just for you and your family, or do you plan on having backyard barbeques to have multiple people enjoy it? There are differences between these two whether in looks, available space, and price.
How to Choose Your Outdoor Fire Feature
It is time to come to a decision for your backyard, and what you want it to look like. You should be aware of the size of your backyard and where you want the feature to be located. Once you know that, you can decide on which one will best fit that specific area. Both outdoor fireplaces and firepits are the perfect place for people to gather by in the summer. Both can accommodate smaller or larger backyards.
Outdoor Fireplace
Having an outdoor fireplace is perfect for certain homes and a specific amount of people. There are a few pros and cons to having this feature. One of the hindering aspects of having a fireplace is that only about 4 to 6 people can fit in front of it. Another negative aspect is that fireplaces tend to be larger so if you have a nice view outside, it could be blocked. There really is not much room since the opening only faces one way. Here are a couple of pros to adding a fireplace:
They make a more elegant and pronounced architectural statement on your property.
The smoke will go directly up the chimney and away from the people enjoying the warmth.
Takes up less space on your patio, as it can be placed right on the edge.
Outdoor Firepit
This feature is perfect for warm summer nights that call for roasting marshmallows over the firepit and gathering around with your friends and family. While a firepit is much different than a fireplace, there is one thing you should always consider. With a firepit being so open and not having a specific place that the smoke can go, smoke tends to blow around and sometimes will end up in peoples faces. Here are a few pros to adding a firepit,
With a firepit you are able to go around the entire feature with everyone, people can pick up chairs and sit around the fire.
You can also create a feature with hardscape to having seating around the firepit.
Firepits are much smaller than fireplaces, making it so your view won't get blocked.
Contact the Professionals
Now that you have an idea of which feature you will want to add, it is time to hire the professionals. When adding something like a fireplace or fire pit you should also consider creating a space where your guests can sit with hardscape. The best part of adding these features is being able to customize the area by having benches that go around the entire firepit. You also can choose between using gas or wood depending on your personal preference.
Ready to start designing the backyard of your dreams? It is time to call the professionals at Greener Horizon. We can help with everything from the design process all the way to the finishing touches. In addition to our expert care and services, we also offer a free consultation to help you achieve the landscape of your dreams. Contact us today.