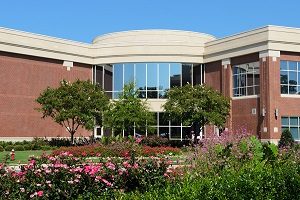 Any business, from brick and mortar companies to commercial leased property, knows the value of their location. And beyond the square-footage of your office space or functioning HVAC systems, it's important to step outside your buildings and look at your landscape. Not much to look at? Maybe it should be. In this article, we look at how improving your landscape can improve your business, from getting more people in the door to improving the lives of your employees or tenants.
Provide Curb Appeal for Your Clients
The exterior of your business can matter a lot to clients and customers, from potential ones driving by to those who are standing on your threshold thinking about coming in. And while a good sign and bit of paint can improve the building, it's important to look at the grounds surrounding it as well. From providing a memorable entrance with hardscaping and lighting to curb appeal from keeping the lawns, trees, and shrubs maintained, it's important to get a landscaping plan together (learn how the design-build process works here).
Improve the Morale of Your Employees
You can improve the outdoor experience for your employees as well, both on and off the clock. Creating private places outside allow them to unwind during breaks, fences can provide privacy, and a multi-use patio gives you a place to conduct parties and meetings outside of the confines of the buildings. You can even start up an employee garden to give employees an outlet for stress and team-building. Check out our blog, Transforming Outdoor Spaces for Your Employees, for the full details.
Support Sustainability in Your Community
A great way of gaining favor in your community are efforts to go green at your workplace, including landscaping that improves sustainability into your property. A few examples below:
Go Native: Install native plants and trees on your property. Learn about their multiple benefits here.
Handle Storm Water: Rebuilt parking lots and other hard surfaces to channel water into watersheds.
SITES Certification: The pinnacle of sustainability, the Sustainable Sites Initiative (SITES) certifications are nationally recognized standards for true environmental sustainability.
Improve Your Safety and Security
It's important that people are able to safely make it to your business, but on the same hand avoid after-hour criminals. For both, the first level of protection are the grounds that surround your business. Making sure walkways are in good repair and designing the proper outdoor flow to move people and vehicles around your business is key. Likewise, landscaping lighting can make it easier to avoid stumbles in the dark, highlight your business, but also increase security.
Landscaping projects and landscaping maintenance of your commercial property is key. If you're interested in pursuing commercial landscape development and grounds maintenance with an eye for aesthetics as well as functionality, contact Greener Horizons. Experts on both commercial and residential projects, we can help you meet your goals to you, your community, clients, and employees in your landscape development and grounds keeping. Contact us today to learn more.