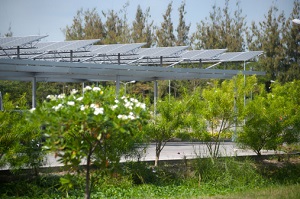 When you're developing a commercial property, landscaping is a big deal. And while it's importance might not be so high to you, to the public and the officials of your community it matters a lot. Getting public support for your projects is also getting public support of your customer and clients as well as neighbors. Having a beautiful plan might not be enough, so maybe it's time to redevelop that plan and gain support by making your landscape design and development environmentally friendly as well through Sustainable Sites Initiative Certification.
The Sustainable Sites Initiative
The Sustainable Sites Initiative (SITES), was developed to provide guidelines for environmentally responsible landscape design and development: cleaning air and water, reducing noise and light pollution, erosion and sediment control, and promoting native plants and their pollination. The results of following SITES guidelines and gaining SITES certification will be an environmentally friendly landscape that will help promote your development as environmentally friendly and responsible.
An Example of SITES Design
Parking lots are an example a necessary feature and a public eyesore. Replacing anything with a parking lot, from old buildings to forested areas, can be a difficult proposition at the best of times. And with a traditional asphalt parking lot, you're also supplying opposition with ecological damage. What does a SITES-friendly lot look like?
Living: Preserves and sustains the local biodiversity through planting and soil conservation.
Water Management: Uses systems and plants that minimize water consumption.
Erosion and Storm Friendly: Uses responsible storm water management to avoid damage and flooding to the environment and local aquifers.
Avoid Visual Pollution: Especially at night in a neighborhood, the area doesn't cause high light pollution, including from signs.
No "Heat Island" Effect: Structure and paving of urban areas contribute to higher local temperatures.
Commercial Landscaping and Public Opinion
Responsibility is a key role for any business, and using environmental guidelines like the Sustainable Sites Initiative can show both the public and your clients about your long-term planning and sustainability efforts, as well has avoiding your company from becoming a focus of environmental irresponsibility and a damaging effect on the community. Producing landscaping that isn't only aesthetically pleasing but also environmentally responsible is key.
SITES Process and Certification
The SITES process is reviewed by the Green Business Certification Inc. (GBCI), with points awarded for the level of sustainability awarded, in a similar way as the LEED program is for buildings. Any project can be registered, with all documentation for the landscape project collected and applied. The documentation is reviewed by the GBCI, which determines the certification level. After the final review the project is certified from SITES Certified through SITES Platinum depending on the amount of points earned.
This SITES certification can be critical in your commercial landscape development of any major property. If you're interested in pursuing commercial landscape development with an eye for aesthetics as well as sustainability, contact Greener Horizons. Experts on both commercial and residential projects, Greener Horizon can help you meet your goals to your community, clients, and employees in your landscape development. Contact us today.