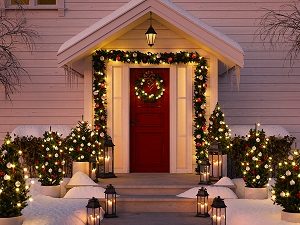 Homes and neighborhoods around October, November, and December can look they were cut out straight from a magazine. It is time for you too to join in on the fun of decorating your front, side, backyard, roof, garage, or wherever else you can decorate and get yourself in the holiday mood. There is nothing better than driving through a New England neighborhood in the autumn and winter months to see everyone's different displays for the holidays. With the help of Greener Horizon, we can help get your larger estate ready for the holidays and create a display that stands out from the rest
Fall Display Ideas: Poltergeists and Pilgrims
Everyone has been there where you go to a house just too scary looking and are not sure if it is best to ring the doorbell and yell "trick or treat." If you are into that, here are some tips to making sure you have the most inviting scary home on the block.
Add color: You can do this with flowers or even colored lights on your porch. Adding planters with fall flowers in it; although may seem simple, it can bring your porch to life.
Light up your pathways: There is nothing scarier than not being able to see where you are walking, especially if there is a scary house at the end of it. Buy solar-powered lights to line up along your walkway for the trick or treaters.
Add humor: Some people like to add graveyards with tombstones and all the fixings to their front yard. Make the tombstone names funny so visitors can laugh while also being scared.
Pumpkins: Yes, pumpkins can be a little basic with fall, but it is also a nice touch. Whether you carve them up, paint them, or just leave them as is they are always fun to have.
Thanksgiving is nearly the same as Halloween, just without all the scary decorations. Instead of graveyards and jack-o-lanterns, you can trade those in for some pilgrim hats, cornucopias, footballs, and turkeys. You also cannot go wrong with a nice bale of hay to add to your Holiday display.
Winter Display Ideas: Candy Canes and Sugar Plums
Do you feel like the blow-up snowmen and Santas are overdone and it is time for you to change it up? If you are looking for a more tasteful approach, consider adding some winter flowers into the mix. Flowers in the winter? Yes, you can pair any planter with winter flowers for any display. Having them on your front porch with twinkly lights will add to any front yard. You can choose from a wide variety of flowers. Just to name a few, there are:
Blue Spruce
Wintergreen Boxwood
Hostas
Amaryllis
If you want to expand past your porch, you can always add light up reindeer in the yard, or if you are so inclined, blow up snowmen and Santa's. Any bush or tree in your yard can easily transform into a Christmas tree if you add some lights to it. Something to consider if you want to utilize all the twinkly light goodness is to purchase a light timer. This will not only save you money but will also save you time, so you won't have to replace the lights you planned to use all season long.
Are you ready to transform your landscape for all the holidays? It is time for you to design the holiday display of your dreams, we can provide the help you need. Contact us at Greener Horizon, and we will get your home ready: it's our promise to provide you with the highest quality service. We have experts that know the best flowers for each season and can help you choose the right ones for