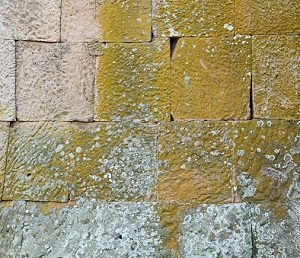 Summer is a great time to begin patio and other hardscape maintenance. A hardscape includes anything from a walkway to a retaining wall. The warm weather leaves a comfortable working environment and is when most weeds and other similar pests are present. Those pests include lichen, moss, and vines. These invasive plants can wreak havoc in a backyard and cause a hardscape to change colors and crack. The most common types of materials used in hardscaping that will require cleaning include brick, concrete, and stone. Some form of cleaning or maintenance should be done yearly to increase or ensure a hardscape's lifetime.
Basic Cleaning
Basic cleaning should be performed at least once a year but can be done as often as needed. There are three very basic methods anyone can do which include: mechanical cleaning, power-washing, and chemical treatments.
Mechanical cleaning: This method of cleaning can be the most time consuming but if done correctly can lead to some great results. Sweeping should first be done to clear the area of any debris. Then by taking a brush with soft or hard bristles (depending on the hardscape) as well as a cleaning agent, a homeowner can actually restore the color back to most hardscapes. Brushing away the algae can drastically change the aesthetics of an old patio or retaining wall, bringing it back to life.
Power-washing: If you own a power-washer at home (or rent one from your home improvement store) this method may work best for you. Power-washing is an easier method than mechanical washing but can be dangerous. Always be sure the hardscape you are blasting is secure and sturdy prior to washing it. However with that being said, power-washing is also a very effective method of hardscape cleaning.
Chemical treatments: Chemical treatments can be very easy to use and are nowhere near as costly as purchasing or renting a power-washer. The chemicals in these solutions are designed specifically to target and remove the pest crops that can cause harm to a hardscape. Some chemical treatments will also require a quick brushing with them just to ensure that any discoloration comes out. Make sure to following the instructions carefully.
Weed Prevention
Weeds are accountable for most of the work that has to be done yearly when it comes to hardscape cleaning. These pesky plants can cause cracks in hardscapes and for most people are not something that they want present in their yard. Walkways are a common area that needed to be ridded of weeds yearly. This is because they are often made of stone and are very porous allowing for the plants to make their way through to the surface. Simply pulling weeds is a method commonly used in weed prevention but it doesn't ensure that they won't be back in a just a few weeks. Sprays are a more widely used and accepted method of weed prevention that will allow for a longer prevention time and can always be reapplied to further the protection.
At Greener Horizon located in Middleboro MA, we understand how important hardscaping can be in contributing to the overall design of your yard. While we provide some of the best hardscaping services available, we also offer weed control solutions and maintenance services. Feel free to contact us today to schedule a complementary consultation!