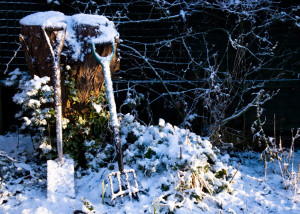 Normally you don't spend much time thinking about your lawn during the winter. In fact, you probably think about it less than any other time of the year. As long as you live in a cold area like New England, the lawn mower has been long put away, and the snow blower and snow plow are your current weapons of choice. However, while you are focused on the snow, don't completely neglect your lawn. There are a few things you can do even in the middle of a harsh winter to help beautify your lawn once spring comes.
Fertilizer in Late Fall and Early Winter
While spring is often thought of as the best time to fertilize, in reality, late fall and early winter are the ideal times to fertilize cool season grasses. The majority of lawns in North America are made up of cool season grasses, like Bermuda and bluegrass, so it's a good bet your yard is one of them. Before the first freeze turns the ground rock solid, thoroughly fertilize your lawn. This will is to replace the many nutrients which are often lost during the stifling summer months. Once the weather turns icy cold, the fertilizer will remain in the soil and provide nutrients to feed your lawn's roots during the winter. Spring should bring a healthy and lush lawn which has been strengthened by feeding throughout the winter.
Keep it Clean
During the winter, it can be easy to leave items on the lawn. You aren't normally thinking about your lawn and you are probably staying inside as much as possible. Toys, logs, branches, and even lawn furniture often gets left outside and eventually buried in the snow. Try to keep your lawn clear throughout the winter as an object left on the grass can create a dead spot. The weight of the object plus the snow and cold will stunt the growth in the new season leaving the grass thinner than the rest of the yard. Make a sweep of your yard every few weeks to makes sure it is clean.
Avoid Excessive Lawn Traffic
While grass is very resilient, it can have a difficult time recovering if it gets trampled too much. During the winter it's easy to forget to avoid walking on the brown grass. However, if a well-worn path starts to develop, you can count on that section of grass lagging behind the other sections comes spring. If you keep your sidewalks clear of ice and snow so they are inviting to walk on, you and any guests will be less likely to take the shortcut and trample your grass. Don't let anyone park on your lawn. Even a small vehicle will kill off grass and leave impressions in the soil. Using your lawn as a parking lot is the fastest way to get a lawn which looks like a parking lot.
Other Strategies
While this really needs to be done much before winter, it's important to understand how to mow your lawn before winter. Slowly decrease the height of the grass at the end of the mowing season. This will allow your grass to winter well, and is easier on it than cutting it really short all the sudden. Long grass can invite field mice and other burrowing critters which can take out large sections of your lawn for the coming year.
For more tips or to start planning your spring landscaping projects, you need to contact the experts. Our team at Greener Horizon are experts in landscape management and can help you care for the grounds at your home or apartment complex. Visit our website to enquire about our services, or visit or blog for more helpful lawn care tips.