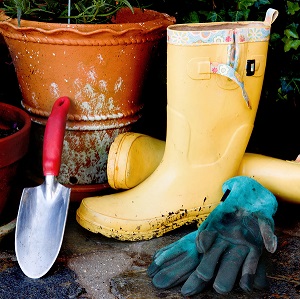 Spring is a time of rebirth. This year, could it be the rebirth of your outdoor property? After months of dreary winter landscapes, you might be ready to charge into spring landscaping. Not so fast! Regardless of your motivations, from increasing curb appeal to increasing your home's useable living space, it's time to plan ahead before you spring ahead. Here are three major areas you should look at before you break ground this spring.
1. Plan Ahead and Do Your Homework
Before you pick out the perfect plants, are you sure they can grow in your climate? It's important to know not only what grows in your region's climate, but in your particular backyard. How much sun or shade does your backyard get? Similarly, what's the wildlife like in your area? You might want to plan for some features if your location is plentiful with birds, while avoiding certain plants that might attract local pests. If animals, such as deer or raccoons are common to your area, make sure to proof your garden against them with natural and manmade solutions such as certain plants or proper fencing.
Also, make sure to plan out the scale of your landscaping project. Larger projects may require multiple phases to complete. A landscape contractor can assist you in planning out your phases, and lend a hand for the larger projects such as retaining walls or irrigations installations.
2. Plant for the Season and for Growth
While looking at plants you want in your garden, pay close attention to the suggested time of year for each. While it will be tempting to plant them all at once, planting each at the right time of the season makes for healthier plants better suited to survive the seasons. Also, do a little research on growth and height requirement on your plants before you select them for your yard. This will help avoid plants crowding out each other, as well as help avoid plants obscuring one another – or your windows!
3. Plan for Landscaping Maintenance
While you have the idea for the perfect landscape, is it one you can maintain? Unlike many home improvements, your outdoor landscape requires regular care and maintenance. From mowing the grass to pruning shrubs, as well as regular watering and occasional fertilizing, landscapes can be a lot of ongoing work. Installing watering systems such as sprinklers to drip lines can allow hands-free watering. Using low-maintenance plants that need less water and perennials that don't need to be replaced each year can also help. For larger estates, it's worth considering hiring a landscape management company to help care for your landscape.
When it comes to planning and executing spring landscaping (or any season), contact Greener Horizon. We're landscape specialist with a history of professional work for residential and commercial projects, from expert design work using 3D modeling software to large-scale landscaping and hardscaping, we can help. Get a free consultation today, so we can get your project set up for spring.